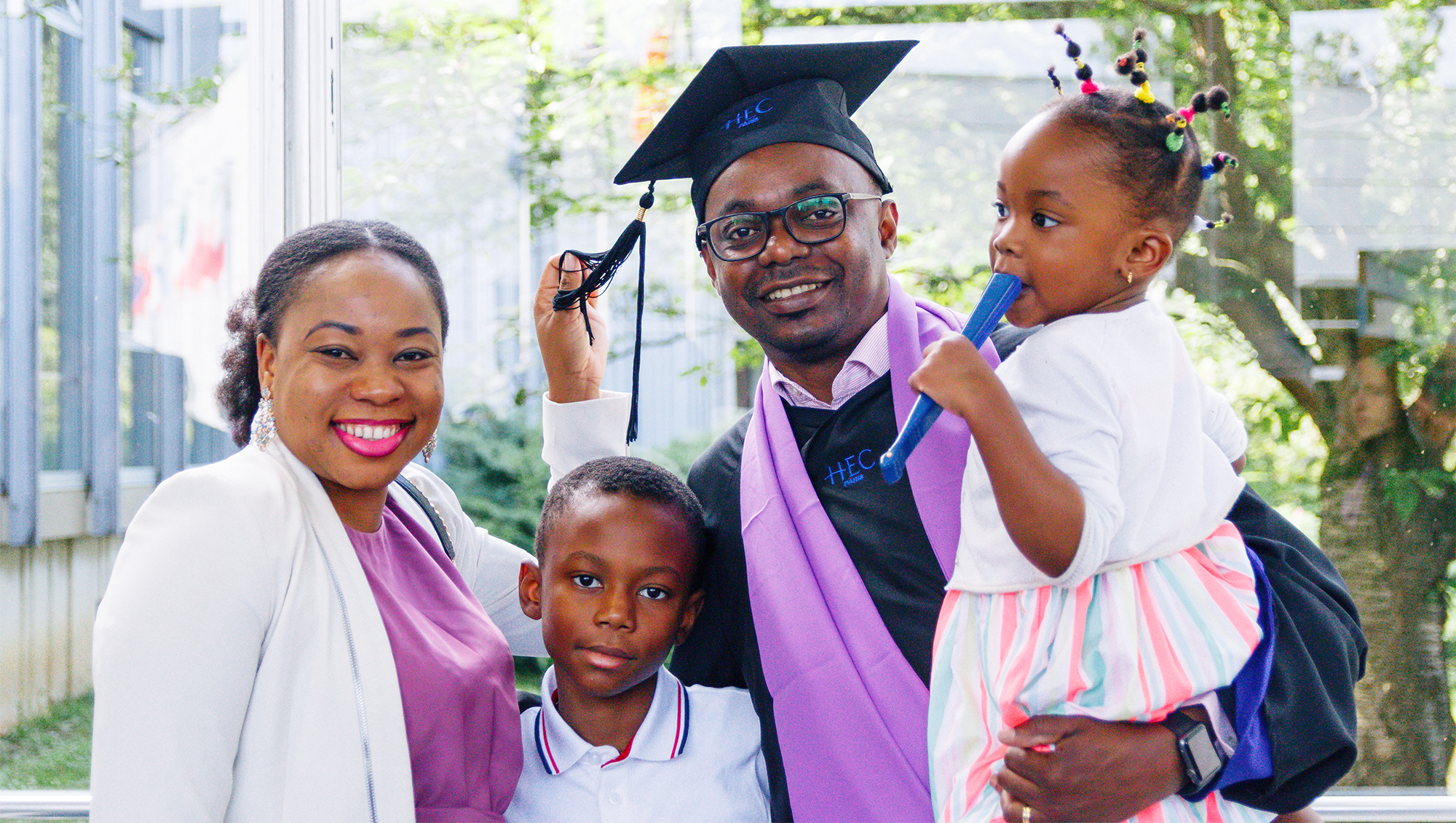 Partners and Families
HEC Paris is happy to welcome the partners and families of our MBA students. We have a range of support and activities available to help your family to settle into life in France – be it on the HEC Campus or elsewhere.
Join the HEC Paris Partners Club
We encourage partners to join the HEC Paris Partners Club, an organization made up of partners who meet regularly to organize social events both on and off campus. For more information, please email: association.hec-paris-partners-club@hec.edu.
Become Part of Campus Life
Partners are an important part of campus life. You are invited to participate in:*
Conferences/speaker series
Our 26 MBA student clubs. Clubs can be professional or social in nature, and include everything from the Asian Pacific Business Association to the Women in Leadership Club. For an up-to-date list of all the current MBA clubs, visit the student clubs page of our website.
MBA-orientated events, such as Integration Weekend, Wine and Cheese Tasting, and more.
MBA Tournament
Cultural Weeks
*some events may require a membership fee
It is mandatory for all partners living on campus to sign the official, GDPR-compliant Partners Contract between you and HEC Paris. In addition to all of the above, signing the contract also provides:
Administrative support for applying for residence permits and health insurance
Use of all available campus facilities, including the library, fitness center, language lab and family room (currently under construction)
French language classes (space dependent) and professor-led conversation sessions
The possibility of participating in the "Inclusive and Social Business Certificate" (for selected
applicants: Reserved for MBAs' Partners – 3 000 €)
Once you arrive on campus, you'll be able to sign our Partners Contract in order to receive the complete partners benefits as described above.
For a first-hand look at a partner's story, visit our MBA News Website.
Planning Your Legal Stay in France
If you are not an EU citizen, you are required to apply for a Visitor Visa Type D for one year. You must do this before your arrival in France.
Please note that a Visitor Visa Type D does not allow you to work in France.
All non-European citizens are required to apply for a Visitor Visa Type D that is valid for one year (this applies even if their partner is an EU citizen).
Upon your arrival, Student Services will help you with the formalities of planning your legal stay in France, as well as  your children's if you plan to live within the 78 district (the same department as HEC Paris) or within the 75 district (Paris). This will work as follows:
1st step: Medical exam at the OFII (arranged by Student Services within 3 months after your arrival).
2nd step: Renewal of your Visa. Please collect your applications three months before your current French visa expires.
Resources for MBA Families
If you or your partner is pregnant while you are studying at HEC Paris, you can access many services offered in France, including free health checks for your baby. The Student Affairs office has put together a reference sheet to help guide you through the pregnancy.
For MBA students arriving with children, our HEC Paris Student Affairs department can help you with registering your children in the French school system.  Public school is free in France, and mandatory starting at 3 years old.
For MBA families with children under the age of three, there are several childcare options available near the HEC campus. Space is always limited, so it's best to register as soon as possible after being admitted to HEC Paris. (If you or your partner is pregnant, we suggest registering for childcare between the 1st day and 4th month of pregnancy, so you can have a spot reserved shortly after the birth of your infant). For more information on childcare options in Jouy-en-Josas, click here.
Partner-Partner Advice
"Live, Eat, Breathe Paris. Your time at HEC is a once in a lifetime opportunity." – Daniela Montoya de Chapa
"Be prepared! Do your homework before moving and get in touch with the current HEC MBA partners via email. You can ask questions and diminish any doubts you may have." – Daniela Montoya de Chapa
"Don't be shy; ask people at HEC about their experience. Get as much information as you can about the school's extracurricular activities and the campus facilties." – Dana Drasarova
"Remember that when you feel alone in a new country, you are never alone. Be brave and make an effort to get to know people; be proactive!" – Caroline Gale
"Start learning French before you arrive to ease the transition" – Madina Umahanova 

One you have arrived on campus, you can obtain the partner's contract or get your questions answered by emailing partnerscards@hec.fr.